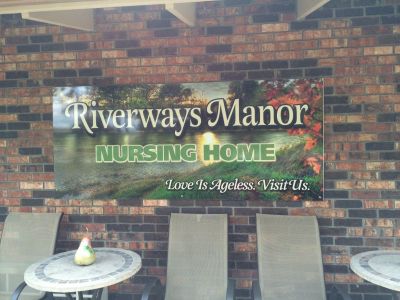 Riverways Manor is a top rated Skilled Nursing Facility whose renovation began under the leadership of the late Wilma Ball in 2010. Despite Ms. Ball's passing on March 2, 2012, renovations were completed, and she will always be with us in spirit. The Renovation promotes a home-like, open concept, atmosphere that meets all new culture change standards of resident centered care.
Our new atmosphere is designed to enhance the life of each individual in our care, as well as their families. We offer flexibility for eating and sleeping schedules, top-of-the-line bathing systems that can promote improved skin care, as well as providing therapeutic hydro treatment for joints and muscles. Riverways also provides professional Physical, Occupational, and Speech Therapy under our skilled nursing programs through Health Facilities Rehab. We provide 24-hour Professional Nursing services.
We have a professional, experienced staff that is led by our administrator Angela Long who has been with us for over 9 years, and our Director of Nursing, Kim Gunter who has been with Riverways for over 10 years.
The remodel was a long process with beautiful results that included the following:
* New Roofing * All New Lighting * All New Flooring * Warm, Inviting Wall Colors * Custom Tiled Bathrooms *Beautiful Custom Cabinetry * Flat Screen Televisions in every room *
For more information about our services or to arrange a personal tour, please call us at 573-323-4282.
Riverways Manor is a top rated Facility.  Click the links below for more information.